Day 112
We were excited for the city so we got up and walked out in the dark…which at this point is easy to do as sunrise isn't until 7:22. We walked less than a mile into Daleville under the headlights and settled into a cafe. We enjoyed great coffee, checked our blog and planned our next week of hiking. Eric went down to the post office to pick up a few extra items we bought online (thicker socks, warmer gloves). We also ran to the Supercuts in the mall and cut a few inches of unnecessary hair.
As we were making our next move, Just Jeremy arrived! We hadn't seen him from northern Pennsylvania and assumed he was a few days ahead of us due to our DC vacation, but it turned out he was actually a few days behind us because he had taken time off to see friends. We caught up a bit and were happy to hear that he was still in good spirits and loved Virginia like we did. We have parted ways and are sure we will see him again at some point in the next few days.
We restocked our food, checked into our hotel and caught up on laundry. We rested and then headed to a Mexican restaurant across the street. Eric even got to watch exciting college football games. Dinner and drinks were great. All in all a successful day in town.
Day 113
It was nice to have a room to ourselves. The day in Daleville slipped away from us as most days in town do. Hours have passed, being up and resting will be a huge benefit as we head into the final third of the course.
After breakfast we packed overflowing bags of food as usual and headed back to the trail. We still enjoy our time in the city, but being in the woods feels like home now. A rain storm was forecast for tonight so we forecast a moderate day and plan to stay in cover just north of McAfee Knob. Hopefully we can get a sunrise from this infamous rocky outcrop that many consider to be the most photographed spot in the AT.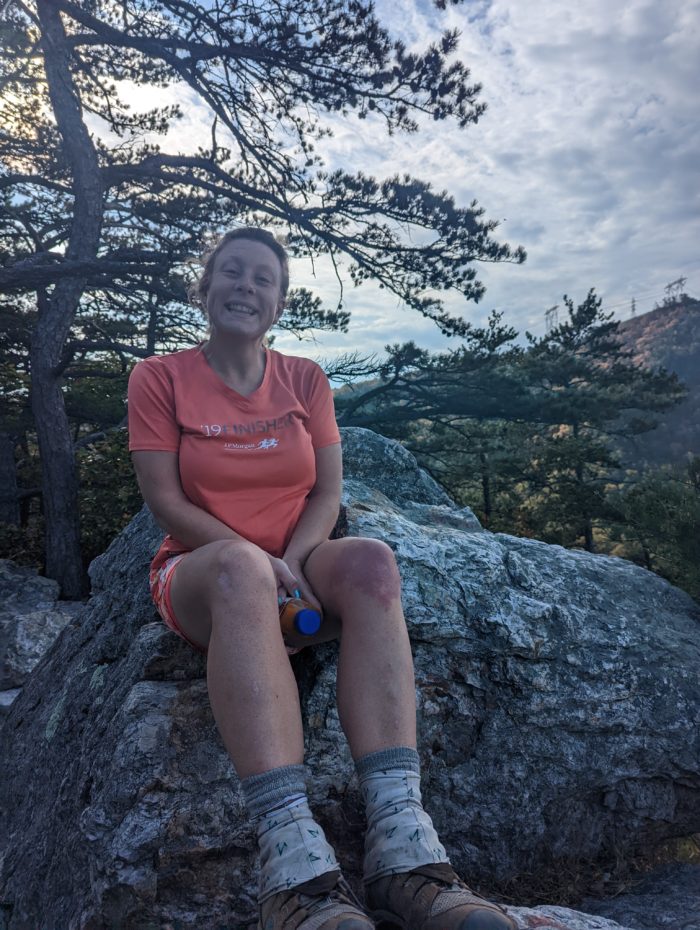 The central Virginia terrain is very tame and hiker friendly. We enjoy the short, well-graded climbs on the long, flat ridgeline sections. We enjoy the view of the green valley below and a myriad of colors on the trees.
This terrain allows us to press the cruise control. We once again encountered a large black snake. This time, Eric almost stepped on it. With colder temperatures, these reptiles seem a little slower and do not move away as quickly as in summer. We bypassed it and went our way.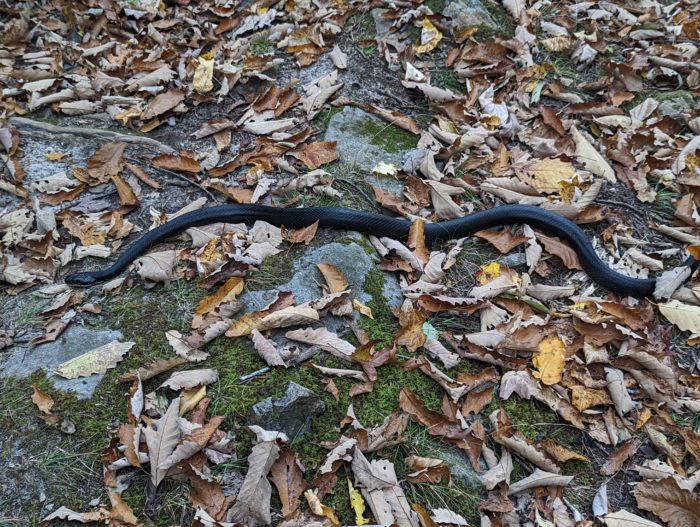 We enjoyed great views from Tinker Cliffs. These cliffs were made famous during the War of Independence as it was where the deserters hid. The tinkering of their repairs to pots and other miscellaneous items could be heard throughout the valley. These days you just hear the cows mooing in the scenic valley below. We took in the view and then the race started…we could hear thunder in the distance. We managed to get to shelter before the rain started, but several others did too. With the forecast calling for more rain overnight, this will be our first full shelter in a long time. The heavy rain started around 6.15pm and forced us all to take shelter earlier than expected but at least we'll be dry. We had an early night but were excited for sunrise tomorrow.
Affiliate Disclosure
This website contains affiliate links, which means The Trek may receive a percentage of any product or service you purchase using the links in articles or advertisements. The buyer pays the same price as they would otherwise, and your purchase helps support The Trek's ongoing goal of providing you with quality hiking advice and information. Thanks for your help!
To learn more, please visit the About This Site page.