Summer brings with it a unique magic of long sunny days, breezy nights and outdoor events that evoke joy. The Elizabeth Park Summer Concert Series is a fantastic way to savor another great Western Washington summer, hosted by the Eldridge Society for History and Preservation and Bellingham Parks and Recreation. Eldridge Society President and John L. Scott's full-time estate agent, Peter Roberts, sat down with WhatcomTalk to share the story of the concert series and invite music lovers of all ages to come check out local artists and beloved ones of the Whatcom community.
"By the mid-'80s, Bellingham's music scene was starting to really grow," says Roberts. He remembers walking his dog in Elizabeth Park on a cold, foggy summer night, when his ears suddenly filled with an "incredibly haunting alto sound. Anna Schaad, who is a fairly well-known local musician, stood in the middle of the gazebo and played her viola.
These ethereal notes inspired Roberts, who brought together the efforts of himself, Karen Duim – who owned a neighborhood commercial kitchen – and Eldridge Company board member John Barnes to create concerts in Elizabeth Park on summer nights.
"Karen's Kitchen provided their famous homemade pasta dishes for the neighborhood," says Roberts. "When we started, we could have brought 30 or 40 locals with their home-cooked dinner or bought dinner from one of the vendors. It became more than 500 people scattered throughout the park.
The gazebo where it all began became the center of the concert series, where all the future participating musicians would settle down and play their unique compositions.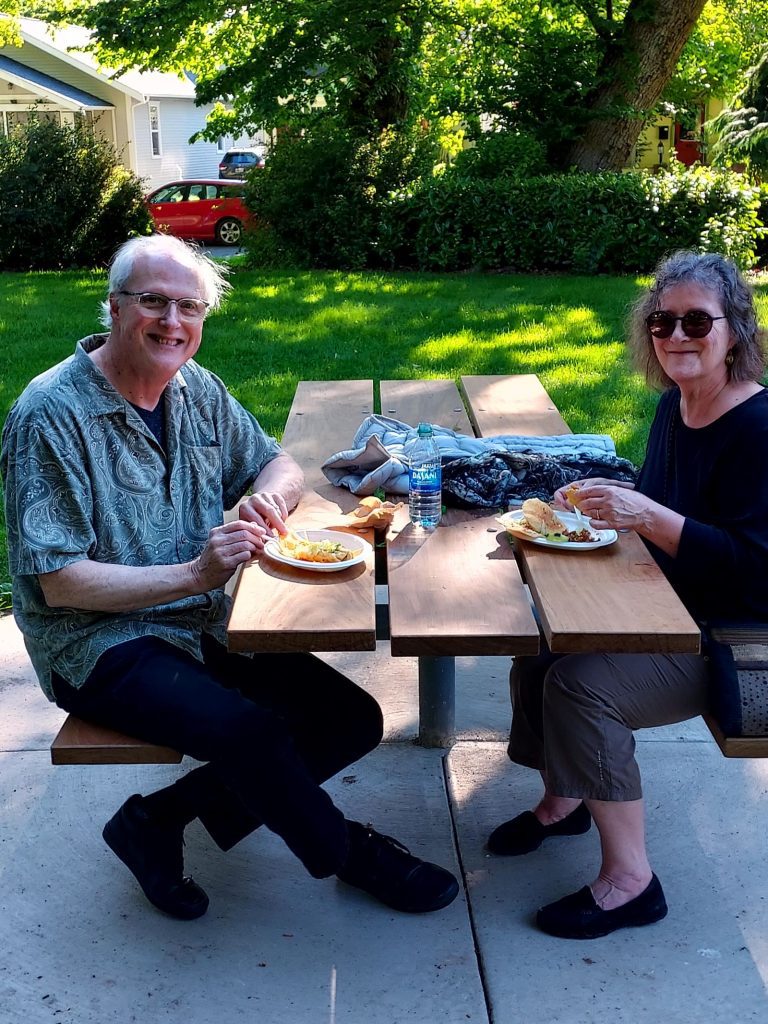 "The gazebo was built by the Eldridge History and Preservation Society in 1984," Roberts explains. "Mayor Douglas dedicated it and we did it with the help of the parks board. The roof was in need of repair in the late 90s, so as president I offered to personally take care of the roof; in return, they gave me the right to hold concerts in the park in perpetuity at no cost to the Eldridge Society.
The Concert Series is an ever-growing and valued community event in Bellingham aimed at bringing people from all walks of life to the park to share in something beautiful. "We accommodate everyone from babies to people in their 80s and 90s with walkers," Roberts says. "It's basically a slice of Bellingham life at the park. It started as local and kind of grew into a city-wide event to become something even bigger than that. For me, it's like walking home.
The series' musical director, Marla Bronstein, has been integral to its success over the past nine years. "Marla is very active in the music and theater scene in Bellingham and Whatcom County, and she selects and schedules bands," says Roberts. "She starts picking them in February and we usually have a slate of 10 or 11 gigs in March of any given year."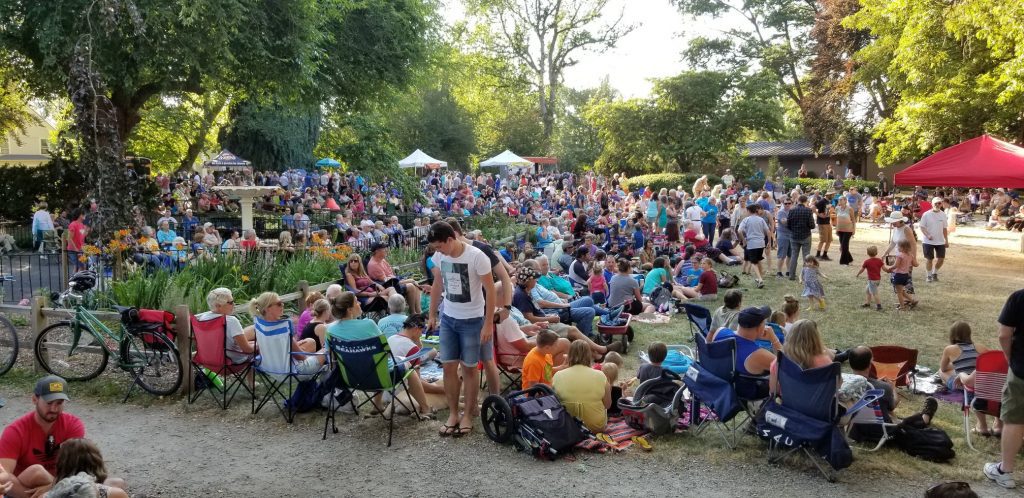 The gazebo has hosted several locally acclaimed musicians and artists over the years, such as Walrus, Heroes, SpaceBand and bandZandt. "From the beginning, we tried to keep it local, if possible," Roberts says. "However, Marla has recruited people from as far away as Mount Vernon. We love to showcase – both in our food vendors and in our music – community-minded local talent. We've had it all, from a person with a guitar to a set of 20 musicians for us.
The Eldridge Society for History and Preservation is a nonprofit Washington State society that typically raises funds through historic home tours. "Thanks to Marla's great creativity and the generosity of our subscribers, we were able to pay for ourselves," says Roberts. "We don't give bands a big stipend to play, but they do so to be exposed to the many people who come to Elizabeth Park to listen."
The event is free and visitors are encouraged to bring whatever items they like to comfortably experience the Thursday night concerts. "It's a public park and there's no alcohol allowed in a public park, but you're allowed to bring a picnic or whatever you want," says Roberts. "Personally, I bring chairs and a lot of people bring blankets. We recycle and compost as much as possible – all of our suppliers bring in recyclable and compostable items.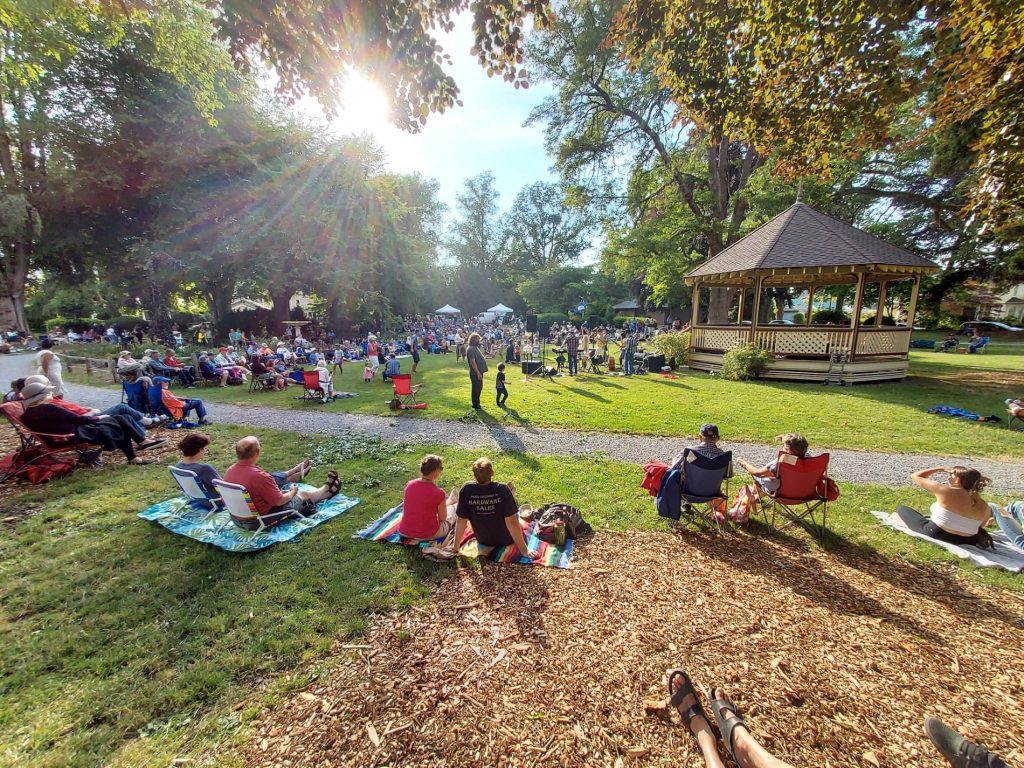 Currently, the park has two vendors at their gigs, for convenience. "We have Edaleen Dairy in Lynden for ice cream treats and Juanita's Mexican Kitchen with variations of Mexican dishes," says Roberts. "I'm also working on bringing in a hot dog vendor."
The show is about community, and Bellingham continues to come together and support the longevity of events like this. "We entered into a partial partnership with Whatcom Educational Credit Union," says Roberts. "They are passionate about supporting communities and they helped defray the expenses of hosting this free event."
Roberts recounts memories from his childhood that served as motivation for the vision for this series. "When I was young, I lived in Mountain Lakes, New Jersey, a small town halfway between New York and the Delaware water divide," Roberts says. "We would have lots of block parties, park events, 4th of July parades and fireworks at the big lake. That's kind of what we're trying to accomplish here. We try to have a community driven affair that brings together a whole bunch of people for an event that is healing, listening and suitable for all ages.
The Eldridge Society strives to preserve human connections and history, continuing to successfully bring the Elizabeth Park Concert Series to Bellingham each summer.
Click here for a list of concert dates and performers.
Peter Roberts welcomes your real estate questions and can be reached through his webpage or at 360.739.3660.
Sponsored